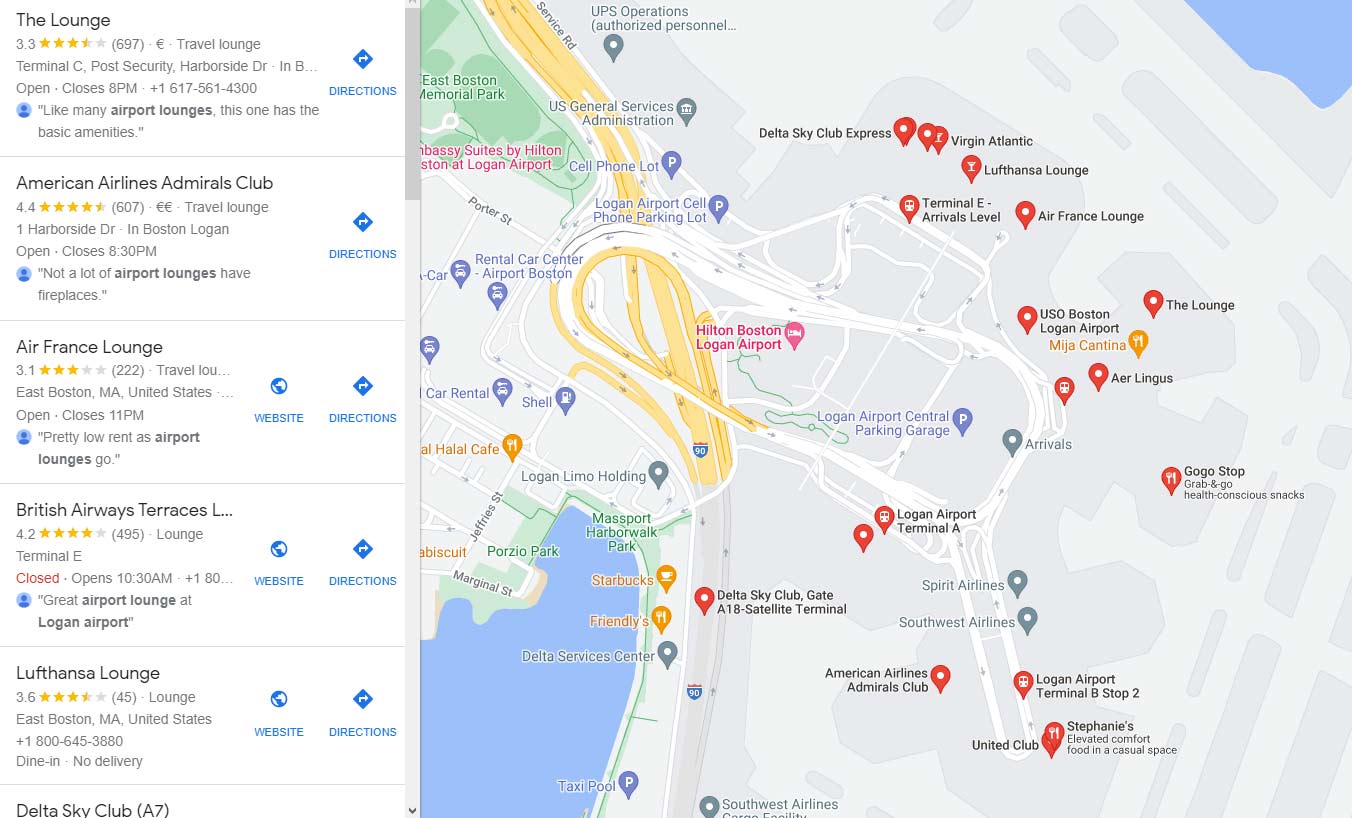 Lounges are locations which can be found in all modern airports. These are places where passengers can use a large number of useful services. In the lounges, the emphasis is on silence, comfort and tranquility. They are readily used by passengers who travel alone and families with children.
Each lounge has its own opening hours. If you plan to use such a location, we recommend that you find out before your trip when the lounge opens and when it closes. In addition, remember that the use of the lounges is paid. The prices are different. For example, if you plan to spend time in a Lufthansa lounge, you will need to pay from $69 per passenger. A more affordable option is The Club BOS. In this case, the cost is $39.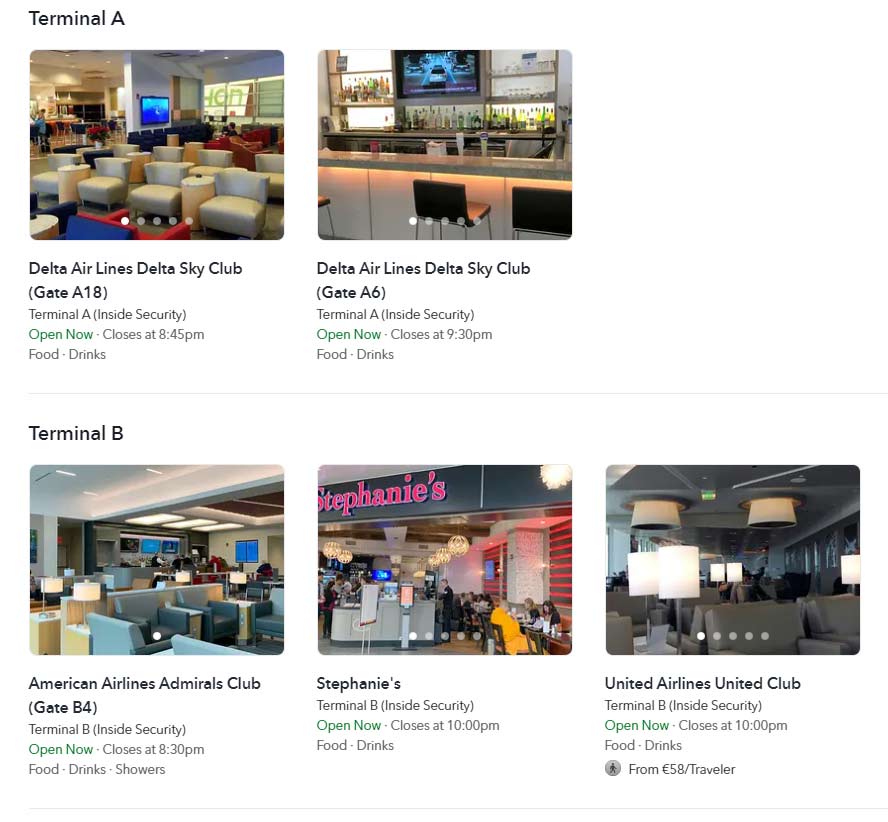 Lounges are scattered throughout the airport. Such locations can be found in any terminal. Hence you can get confused by such variety. If you want to know exactly where this or that zone is located, use the Logan Airport lounges and terminal map. You will be able to see the lounges that are available in a particular terminal. In addition, you will quickly learn how to get to a particular location. If you still have difficulties, you can seek help from an airport specialist.
The list of Boston Airport lounges
Each lounge has its own characteristics: design, list of services, and so on. The fact is that these locations are organized by different companies. Whatever it was, you can count on a high level of comfort in any case. Lounges are equipped with modern comfortable furniture, there is high-speed Internet. Many lounges offer a beautiful view of the airport's infrastructure.
Here is a list of lounges that are available to passengers:
Air France Lounge;
The Emirates Lounge;
British Airways Galleries Lounge;
USO Lounge;
Virgin Atlantic Boston Logan Clubhouse;
Lufthansa Lounge;
The Lounge;
United Airlines United Club;
Delta Air Lines Delta Sky Club;
The Club BOS;
American Airlines Admirals Club.
Delta Air Lines has two lounges. One of them is located near gate 6, the second one is located near gate 18.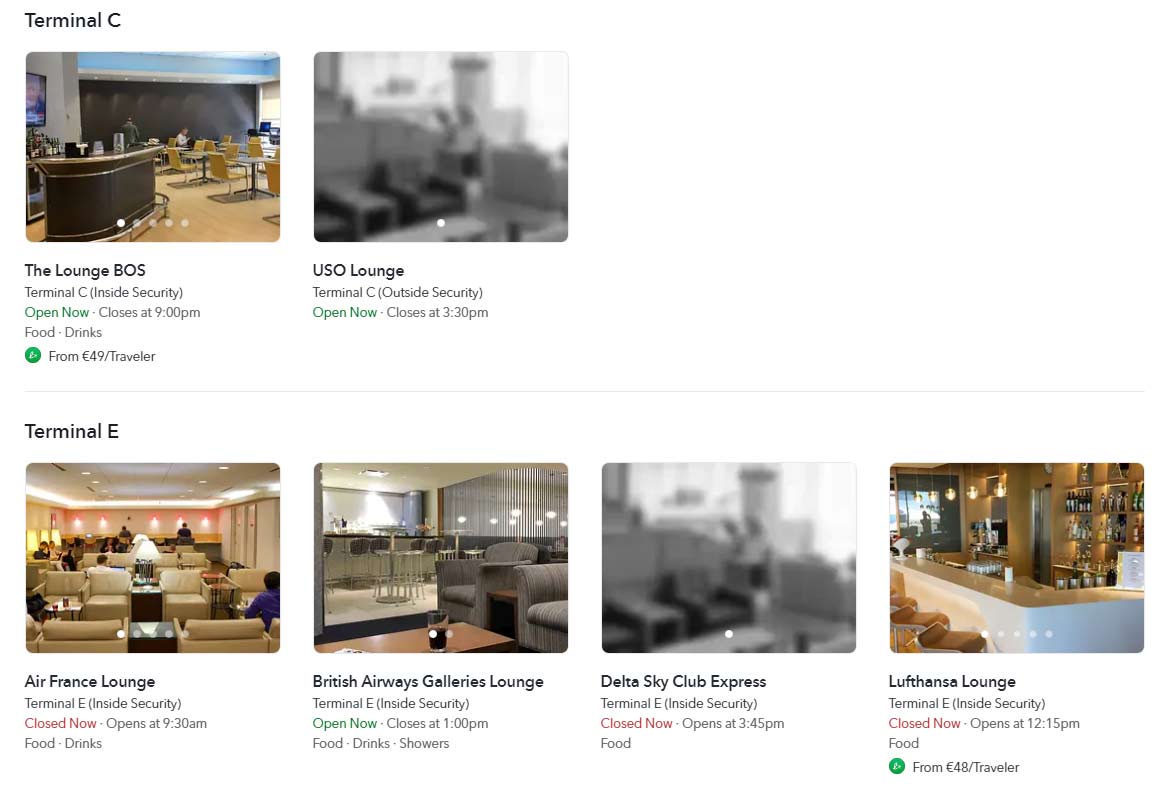 Services available to passengers
Lounges have approximately the same list of services available to passengers.
Of course, you can eat and drink something here. Some lounges offer simple snacks, and in some places you can buy premium dishes. Alcoholic and non-alcoholic drinks are available.
Passengers can read newspapers and magazines, watch TV. All lounges have free wireless internet. For example, Boston Airport The Lounge is equipped with Internet terminals.
Some lounges have showers. There are areas equipped with office equipment. For example, passengers can use a printer, scanner, copier.
In a word, here you can find everything you need to spend your time comfortably while waiting for a flight. Lounges are popular among passengers whose flights depart early in the morning, because here you can drink coffee or take a nap in silence. You can often see people whose flight is delayed.